BLACK AND MISSING FOUNDATION COMMEMORATES 15TH ANNIVERSARY WITH A MULTI-CITY BILLBOARD CAMPAIGN TO RAISE AWARENESS OF MISSING PERSONS OF COLOR
HYATTSVILLE, MD. (May 1, 2023) — The Black and Missing Foundation (BAMFI) is launching a 16-city billboard campaign in May in honor of its 15 year anniversary. The billboards will highlight 48 missing persons of color to raise awareness about their cases and shine a light on the lack of exposure to help find them. These individuals often go under the radar even though missing persons of color account for 40% of the missing population. The campaign has the potential to reach more than 10 million people across the country, which could lead to a safe recovery or answers for the families that are desperately searching for their missing loved ones.
"Our goal is to get equal media coverage and law enforcement support for missing people of color who remain missing 4x longer than their white counterparts," said BAMFI Founders Natalie Wilson and Derrica Wilson. "While our organization has made an impact over the years, we won't stop until our missing are household names too."
Several organizations have stepped up to sponsor a billboard in their city, including the National Coalition of 100 Black Women of Chicago Metropolitan, the Joseph Assignment Global Initiative, and the Milwaukee Bucks. The NBA team plans to use the videoboard on the 5th Street Garage outside Fiserv Forum to support the campaign.
"The Black and Missing Foundation is a vital organization that is dedicated to bringing awareness to the issue of missing persons of color," said Roger Kamau, Bucks Senior Vice President of Financial Strategy and Analysis. "The Bucks organization is thrilled to support BAMFI and help amplify the voices and stories of marginalized communities."
The billboards will be located in the following cities.
Atlanta, GA (S/S I-285 W/O RIVERDALE RD RHR F/W)

Baltimore, MD (I 895 ES 400ft N/O Moravia Rd F/S – S)
Chicago, IL (I-94 North of 142 street facing North)

Cleveland, OH (On 480, for traffic existing 271 heading toward Cleveland)

Dallas, TX (Near 1500 block of S Watson Rd, Arlington TX (just south of Park Row))

Detroit, MI (Near 6800 Taft St (on I-96 after exit 189 W))

District of Columbia (15th & W Street NW, 7th St & S St NW, 1st & M St SE)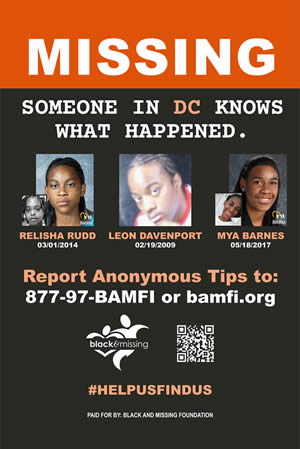 Hyattsville, MD (4424 Baltimore Blvd WS 1000ft N/O Bladensburg Rd F/S – 1)

Kansas City, MO (I-35 North of Pleasant Valley road East side of the street facing South)

Los Angeles, CA (Near the intersection of the Imperial (I-105) Freeway and the Harbor (I-110) Freeway)

Miami, FL (Northwest 27th Ave South of 99th Street. East side of the street facing South.)

Milwaukee, WI (The 5th Street Garage outside Fiserv Forum)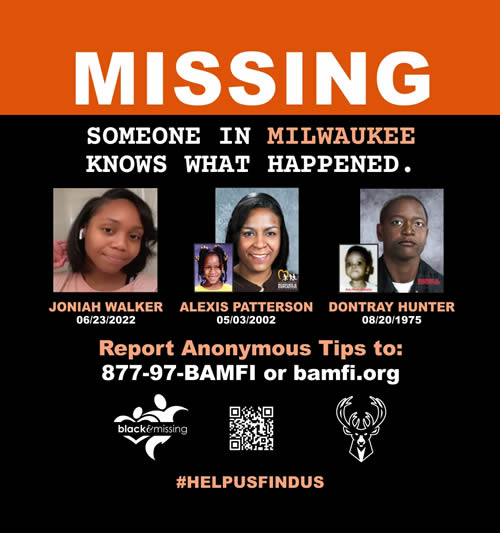 New Orleans (Along the Bishop Ford (I-94) Expy)

Newark, NJ (Route 21 500 ft North of Raymond Blvd East side of the street facing North)

Philadelphia, PA (I-95 South of Route 420 facing South, Route 130 South of Airport Circle facing South, Philadelphia Turnpike Bridge & Wood Northside facing East, I-95 South of Academy Road East side facing South)

Phoenix, AZ (On I-10 between i-17 and the downtown tunnel)

For exact locations, and to learn about the missing people featured, visit www.BAMFI.org.
The billboard campaign is part of a series of awareness activities to commemorate BAMFI's 15th anniversary. Other activities include the Hope Without Boundaries 5K at the National Harbor in Maryland on June 3rd and the debut of the organization's new podcast, "Untold Stories: Black and Missing" on May 24.
"For some families, we are their last hope," said Natalie and Derrica. "To date, we've supported more than 5,000 thousand families in the search for their missing loved ones and helped locate or get answers for more than 400 missing people. We continue to be passionate about the work we do by serving as advocates for these families to help us find us."
Photo credit: Black and Missing Foundation